Kayaking Tahoe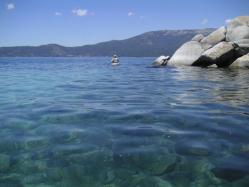 Driving around Tahoe on a previous trip, we'd been impressed by the clear aqua waters of the northeast side of the lake, in particular near Sand Harbor and the roadside viewpoint just north of it.

We immediately decided we wanted to bring the kayaks some time, but a complication intervened: there seemed to be no safe way to carry kayaks on top of the RAV4. (Our other available vehicles include two motorcycles and two 2-seater targa top sports cars, none of which improve the situation any.) The RAV4 has a factory rack, but the towers are made primarily of plastic, and when we'd last looked into it, the guy at the rack store said they weren't warrantied for carrying anything like kayaks, and the Thule online fit guide said "No recommended models at this time." The Thule kayak carriers we'd used on the 4Runner fit fine, and we'd used them for short trips, but we were nervous about getting far from home and having a rack tower break. We'd thought about all sorts of elaborate ways we might reinforce the rack towers, or temporarily fix one if it broke on the road, but it all seemed like a lot of work. Googling was inconclusive: one person mentions carrying canoes on his factory rack and says it's rated for 150lbs+, a few other people worry about it as we did, but no definitive answer.

Anyway, after talking to a different rack store employee, who said "No problem! It's rated for way more weight than that!" we finally decided to just try it and take the chance.

So off to Tahoe, and up to Sand Point Harbor state park we went. We turned in to the entrance, waited in line for five minutes while a school bus at the head of the line had a kid get out, go somewhere, and get back in while 20 cars waited behind him. Finally we inched forward to the head of the line ... to learn that kayaks aren't allowed to launch from that beach, they have to go down the road to the other entrance and launch from the other beach. (As we waited to make the left turn onto the highway to go to the other entrance, another car with kayaks turned in to the main park entrance. I wonder if it's ever occurred to them to put a sign at the entrance, rather than at the kiosk where you have to wait in line in order to see it?)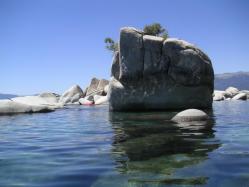 So we made it to the other entrance, paid our $8 entry fee, unloaded the kayaks -- and discovered that 3/4 of the parking lot was blocked off, so the lot was already full, at 10:30am with a long line of other cars already stacking up at the entrance gate. Dave eventually had to drive back out to the highway and up to the original Sand Point entrance, park there, then walk back from there. Total time dealing with Sand Point parking and red tape: probably about 45 minutes.
Then we discovered that my kayak's seat had somehow become swollen and misshapen. We still don't understand why; perhaps somehow from the way it was tied down on the rack, but that shouldn't have affected the seat. Fortunately I was still able to sit in it, though not as comfortably as before.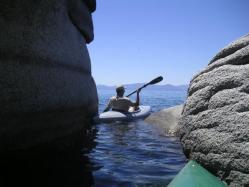 Once in, though, the water is beautiful! It looks just as clear and blue when you're sitting on it as it does from above. The eastern shore is a huge rockfall, mostly rounded granite boulders from nearby Marlette Peak, and the lake bottom alternates between dazzling white sand (colored a pale turquoise by the water) and granite boulders, sometimes salt-and-pepper colored and sometimes dark from moss. The boulders protruding above the surface make for wonderful kayak labyrinths, with narrow passageways challenging our ability to slip through without scraping the sides of the boat. (Fortunately, our Otters are robust enough to tolerate some misses.)
I've read about the cold cold waters of Tahoe, but in late July the temperature near the shore was delightful. Plenty of people were swimming or snorkeling, and I frequently splashed or doused myself to stay cool when the sun started to feel too warm.
Surprisingly, there wasn't much aquatic life visible. We saw four or five schools of roughly 2" fish during four hours of paddling. We saw some people fishing, but can't imagine that they were having much luck. Birds were mostly gulls, mergansers, Canada geese, and an occasional Stellar's jay. There was much more human and canine activity: dogs jumped or swap from rock to rock, and we saw one occupying the middle position between the two paddlers in a double kayak. Tahoe seems a friendly place for dogs (a lot of the motels allow pets, too).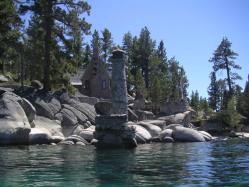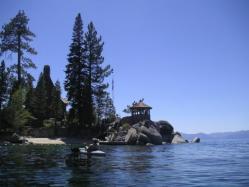 Perhaps the weirdest sight of the trip was the mini lighthouse standing some thirty feet above the water level. This turned out to be Thunderbird Resort Lodge, a sort of Disneyland-on-the-lake. In addition to the mini lighthouse, it sported several stone A-frame chalets, a promenade with miniature streetlamps and potted flowers, and a gazebo overhanging the lake, all crowded with guests.
A bit past Thunderbird is "Secret Harbor". Tahoe sure has a lot of secrets! First, on the drive up, Dave spotted a billboard advertising "Tahoe's Best Kept Secret", causing us to wonder how poorly Tahoe's other secrets must be kept, if its very best kept one is on a billboard. Then we kayaked north from Sand Point to "Hidden Beach", turned around and paddled south to "Secret Harbor".
One of the Tahoe maps mentions "naturist beaches" around Secret Harbor. Maybe it's a secret because there's nude bathing? I didn't know when we were on the water that the harbor was "secret" or about anything "naturist", but I did notice one couple sunbathing with no obvious apparel, and left them their privacy and didn't paddle any closer to shore to find out.
(When you look back at Marlette Peak, you can see the vast meadow on top where Marlette Lake is. That's the lake you pedal through at the beginning of the famous Flume mountain bike trail. Yes, at least in some seasons you actually ride through part of the lake. It's quite shallow, but still an interesting experience.)
A bit past "Secret Harbor", the wind started to pick up. Actually the wind itself wasn't obvious, but the size of the waves increased significantly, to the point where some were actually breaking over the sides of the kayaks. This was actually quite pleasant and fun, except that I had neglected to bring a plastic bag or any other sort of protection for my camera. It was time to turn around anyway, though (total time on the water turned out to be four hours, and I estimate between eight and ten miles) so we began the struggle back to Sand Harbor. As the waves increased, paddling became more difficult (we were paddling across the wind, so it was neither helping nor hindering our forward progress, but it's more difficult to make progress when the water keeps dipping out from under where you're trying to put a paddle in). Still, in that way kayaks have of making progress without really seeming to go anywhere, we found ourselves back at the boat ramp fairly quickly, with no damage except sunburn.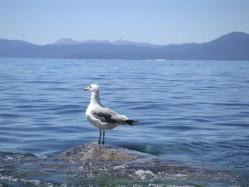 Back to Akkana's Kayak Page
Back to Shallowsky.com
mail comments