Hitchhiker's Guide to Rukl Chart 33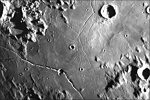 Thierry Legault's CCD image of The Rimae Triesnecker (top right), Hyginus (center) and Ariadaeus (top left).

See also an impressive high-resolution shot of the Triesnecker area at astro-shop.com.

Rimae Triesnecker

(JRF <freeman _at_ netcom.com>)

This rille system contains members that are both easy and difficult in amateur instruments; it will provoke many interesting comparisons of telescope capability.

Sinus Medii

(David North <d _at_ timocharis.com>)

Worth inspection is the Sinus Medii area, particularly the Triesnecker rille complex where it fractures Rhaeticus. In the eyepiece, it actually looked as if the southern extension of Rima Triesnecker met up with Rima Oppolzer, but the charts belie this
---
This page last modified: Dec 06, 2020
All materials on the Hitchhiker's Guide to the Moon are © Copyright the individual authors.
The Hitchhiker's Guide to the Moon Compilation is © Copyright 1999,2000,2002 Akkana Peck.
---
Hitchhiker's Guide to the Moon | Search the Hitchhiker's Guide | Shallow Sky Home | comments or contributions