Slow Stick
Dave's flying a Slow Stick now. He likes it better than the Pico Stick, though it's still sluggish and slow to react to control inputs. He reports that it's somewhat sensitive to balance, and he has trouble keeping the nose down when it wants to balloon up into the air and stall.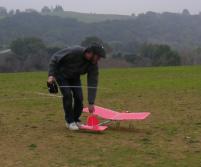 Getting ready for takeoff ...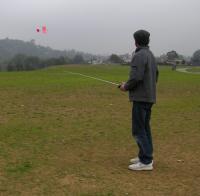 In the air!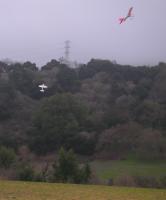 Slow Stick flying with a Formosa (not mine).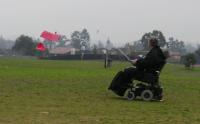 Although the Slow Stick is a very slow, docile plane, it also turns out to be a popular target for hacking. Lots of people fly Slow Sticks modified in one way or another. Here's someone with a clipped-wing Slow Stick, with a hopped up engine, flying 3D aerobatics. He also did some amazing tight loops, stalls and spins.

Another local has a Slow Stick with ailerons and lights installed, and lots of other modifications.


So Dave clipped the outer edges off the wings of his Slow Stick so that it would turn more responsively. Then, after the tail broke again and he got tired of repeatedly re-attaching it yet always having it be mushy and wobbly, he built balsa tail surfaces to replace the original foam, which seems to work very well. It's still a bit slow and he still has trouble flying it in the wind, but it's a lot more precise and fun now.

More Planes
Shallow Sky Home