The Recreational Bulldozer Web Page of Shame
(A photo-essay by Akkana Peck).
Background: Recently, the mountain biker community has been mounting an effort to persuade the Mid-Peninsula Regional Open Space District (MROSD) to leave some of the trails in El Corte de Madera Open Space Preserve in a relatively untouched state, as opposed to grooming them with the "trail machine", a mini- bulldozer used by the district for trail construction and maintenance. The trail machine saves labor, but at the cost of turning a narrow, lovely trail into a wide swath of loose dirt and gravel which is unpleasant to walk on and difficult and dangerous to ride on.
At a recent meeting to discuss El Corte de Madera's fate, this issue came up for heated debate. Mountain bikers begged for MROSD to consider reducing bulldozer use, because of its effect on the trails. An MROSD staff member took offense at some of the remarks, insisting that the trail machine was not a bulldozer (and apparently not understanding why bikers might see a similarity between the two), and remarking that "the district is not involved in recreational bulldozing".
Only a few weeks after the El Corte de Madera meeting, another local preserve, Fremont Older, underwent trail maintenance with the trail machine. Your intrepid photographer just happened to have some shots of Fremont Older taken earlier this spring, so I ventured out, camera in hand, to document the effects of the trail machine. Bulldozer, or benign agent of singletrack maintenance? You choose.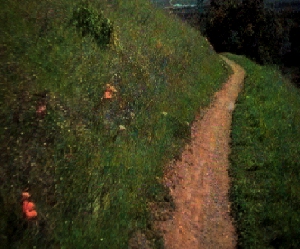 The Seven Springs loop singletrack is one of the prettier trails in Fremont Older. Here is is in early spring, showing the foliage growing right up to the edges of the narrow trail.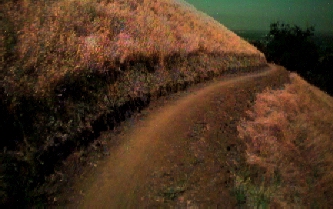 Shown at right is the same trail about a month after the trail machine passed over it.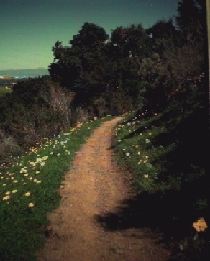 Shown at left is another point, farther down, where the Seven Springs trail descends into the forest.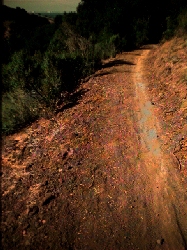 At right is what that trail looks like today.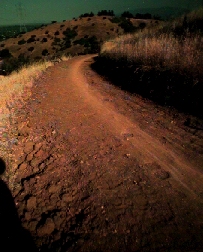 At left is another example of a trail shortly after the trail machine passed through;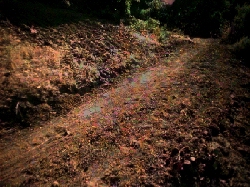 and at right is a sample of the fire breaks which are plowed up to meet the trails in numerous places, scarring the hillsides in the process.

A final issue: in the El Corte de Madera Trail Use and Management Plan, a remark is made about El Corte de Madera coming to resemble "an off-road vehicle park".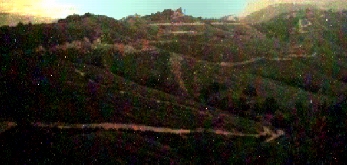 In case you don't ride dirt bikes and haven't seen this sort of park, at left is a picture of a real off road vehicle park (Hollister Hills SVRA).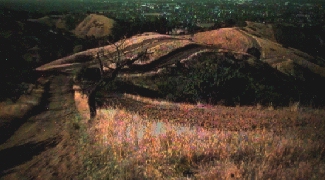 At right is a current picture of Fremont Older: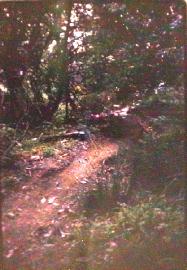 At left is a typical El Corte de Madera view. You decide: which one looks more like the real off-road vehicle park?

---
Photos and text by Akkana Peck -- Mail Comments.