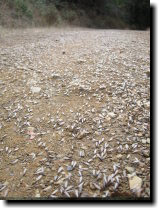 At Rancho San Antonio today (Los Altos Hills), high on the High Meadow and PG&E trails, there's an incredible abundance of termite colonies on the trail -- the trail is thick and silvery with them in places.
A few colonies are flying, and around the flying ones there's a great diversity of wildlife partaking in the feast -- in about five minutes I saw wrentits, juncos, chestnut-backed chickadees, Townsend's warblers, woodpeckers (several flew by too fast to identify), spotted towhees, a Bewick's wren that didn't cock its tail like a normal wren, northern flickers ... plus chipmunks.
And the species that normally hide out in thick brush and resist being photographed -- especially the wrentit and the chipmunk -- were so busy gobbling tidbits that they didn't pay much attention to a photographer snapping away.
Quite a show! The lower parts of RSA were fairly nice too -- I got a good look at a red-shouldered hawk that swooped low across the trail, plus lots of quail, rabbits and squirrels. There's a sign just past the farm warning to stay away from "sick bobcats" (the nature of the disease is unspecified) but we didn't see any cats.
Photos: Termite feast at RSA.
[
21:25 Oct 27, 2010 More nature | permalink to this entry |
]