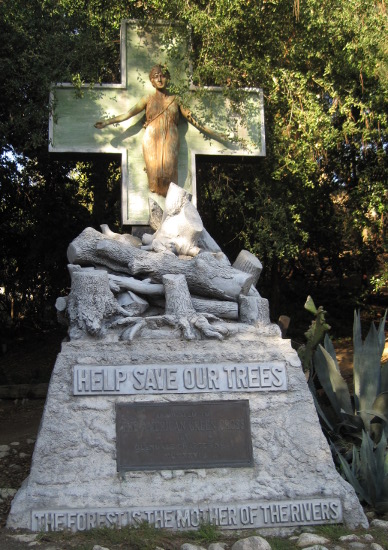 This is one of the creepiest statues I've seen in a park. A bronze lady has her feet embedded in a green cross, with cut tree stumps below her.
On the pedestal below her, it says:
HELP SAVE OUR TREES

THE FOREST IS THE MOTHER OF THE RIVERS
A small plaque below that says:
DEDICATED TO
THE AMERICAN GREEN CROSS
BY
GLENDALE CHAPTER No 1
MCMXXVIII
On the wide of the pedestal, it says:
CONSERVE THE FORESTS
PREVENT EROSION —
RENEW SOIL FERTILITY
PERPETUATE THE LUMBER SUPPLY
The title of the work, as given on an even smaller plaque on the gruond in front of the statue, is "Miss American Green Cross". Apparently it was created in 1928 by sculptor Frederick Willard Proctor, for an environmental group (although I don't usually think of "the lumber supply" being a prime concern of environmental groups).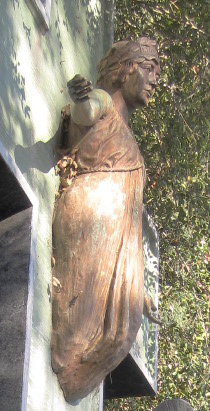 The statue was first erected at Glendale High School in 1928. But she suffered some damage and abuse over the next few years, including being hit by a car. And then at some point in the early 1930s she disappeared. No one knew what had happened to her.
She wasn't officially rediscovered until 1954, when some hikers reported seeing it near the old Brand family cemetery, now part of Brand Park. She stood there for another three and a half decades, where she continued to be vandalized, acquiring scratches as well as grafiti, and eventually losing both arms.
Eventually, in 1990, after some debate over materials and methods, the city of Glendale restored the statue and moved down the trail to itsmis current location near Brand Library at the foot of the Brand Park hiking trails.
I've chuckled at this statue for years, whenever I visit Glendale and hike Brand Park. I still find her trapped legs, crucifixion motif, and pile of razed stumps creepy. But I must say that her history is a lot more interesting than I had imagined.

[
21:04 Dec 13, 2012 More humor | permalink to this entry |
]