We're still not getting the regular thunderstorms one would normally expect in the New Mexico monsoon season, but at least we're getting a little relief from the drought.
Last Saturday we had a fairly impressive afternoon squall. It only lasted about ten minutes but it dumped over an inch of rain and hail in that time. ("Over an inch" means our irritating new weather station stopped recording at exactly 1.0 even though we got some more rain after that, making us suspect that it has some kind of built-in "that can't be right!" filter. It reads in hundredths of an inch and it's hard to believe that we didn't even get another .01 after that.)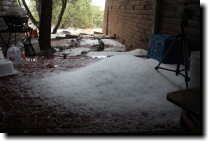 It was typical New Mexico hail -- lentil-sized, not like the baseballs we heard about in Colorado Springs a few days later that killed some zoo animals. I hear this area does occasionally get big hailstones, but it's fortunately rare.
There was enough hail on the ground to make for wintry snow scenes, and we found an enormous pile of hailstones on our back deck that persisted through the next day (that deck is always shady). Of course, the hail out in the yard disappeared in under half an hour once the New Mexico sun came out.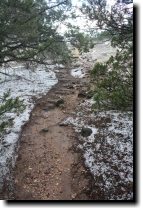 But before that, as soon as the squall ended, we went out to walk the property and take a look the "snow" and in particular at "La Cienega" or "the swamp", our fanciful name for an area down at the bottom of the hill where water collects and there's a little willow grove. There was indeed water there -- covered with a layer of floating hail -- but on the way down we also had a new "creek" with several tributaries, areas where the torrent carved out little streambeds.
It's fun to have our own creek ... even if it's only for part of a day.
More photos: August hailstorm.

[
19:28 Aug 08, 2018 More nature | permalink to this entry |
]