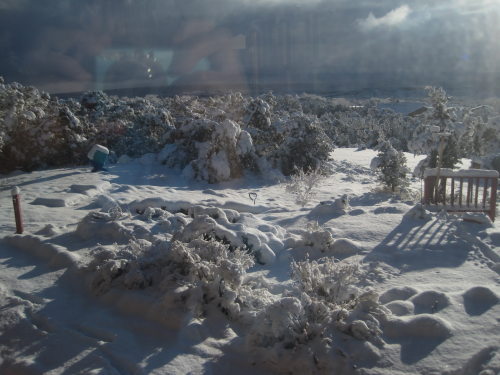 The morning after Christmas we woke up to a beautiful white world, with snow still coming down.
Shoveling is a drag, but still, the snowy landscape is so beautiful, and still such a wonderful novelty for ex-Californians.
This morning we awoke to much the same view, except the snow was deeper -- 8-12 inches, quite a lot for White Rock.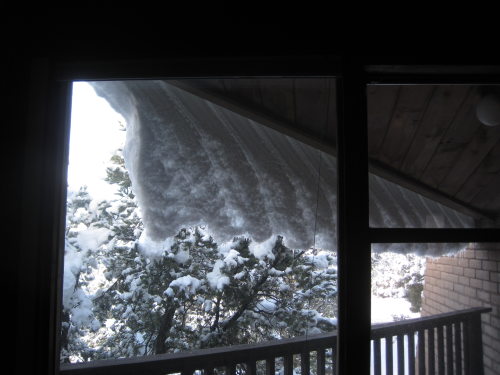 We also had the usual amusement of Roof Glaciers: as the mat of snow gradually slides off the metal roof, it hangs off the edge, gradually curling, until finally the weight is great enough that it breaks off and falls. Definitely an amusing sight from inside, and fun from outside too (a few years ago I made time-lapse movies of the roof glaciers).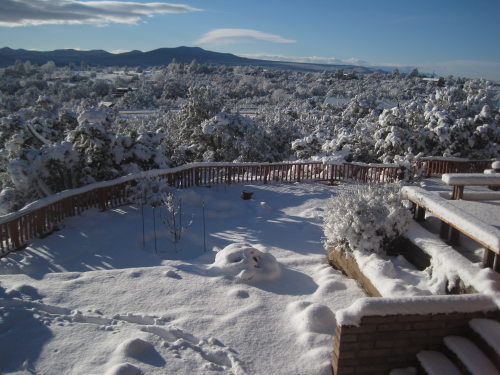 And then, this being New Mexico, the sun came out, so even while snowflakes continued to swirl down we got a bright sunny sparkly snow vista.

Yesterday, the snow stopped falling by afternoon, so Raspberry Pi Club had its usual Thursday meeting. But the second storm came in hours earlier than predicted, and driving home from Pi Club was a bit icy. I wasn't looking forward to the drive up to PEEC and back tonight in a heavier snowstorm for our planetarium talk; but PEEC has closed the Nature Center today on account of snow, which means that tonight's planetarium talk is also canceled. We'll reschedule, probably next quarter.
Happy Holidays, everyone, whether you're huddling inside watching the snow, enjoying sunny weather, or anything in between. Stay warm, and walk in beauty.
[
12:28 Dec 28, 2018 More misc | permalink to this entry |
]