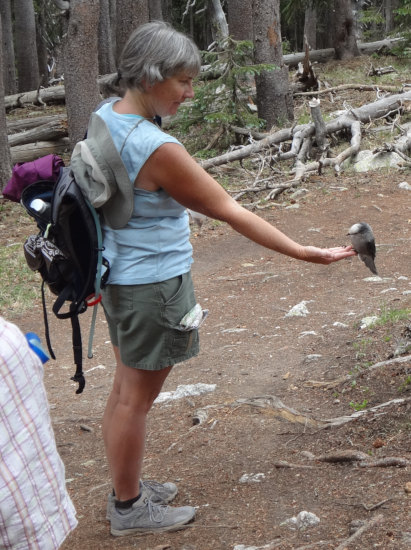 A couple of weeks ago the hiking group tackled Deception Peak, above the Santa Fe ski area.
It's a gorgeous hike, and one I'd wanted to do for years. Every year the group hikes up to Nambé Lake, at about 10,826' elevation, which I've always considered one of the most beautiful of our regular hikes. And every time I'm there, I look up at the rocky peaks above, and wonder what it's like up there. Now I finally know.
While on our way up the mountain, we were welcomed by a crew of grey jays begging near the trail. Grey jays are sometimes known as "camp robbers" because they're so tame and bold. They've learned that humans are a good source of food, and they're happy to swoop down and take it from you, or, if you're slow about offering the goods, to sit on a branch next to your head scolding you.
I dug some nuts out of my pack ...

[
11:19 Jul 30, 2020 More nature | permalink to this entry |
]