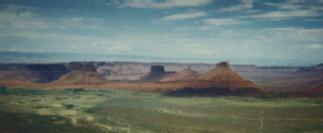 Akkana's Moab Page
As far as I'm concerned, the most beautiful place in the world is the Moab, Utah area, and I visit there whenever I can (every year or two).

This picture shows Castle Valley as viewed from the top of the Porcupine Rim trail.

This is the top of the Porcupine Rim trail, overlooking Castle Valley, which includes some of the best and prettiest singletrack in the country.
Here's a closer look at the Castle Valley rock formation from the previous shot, which is called "Priest and Nuns".
Here's another scenic from the same area, along the Colorado northeast of Moab.
Here's the view from the top of Moab Rim, looking southwest toward the Colorado. The spires on the horizon are Canyonlands National Park.
[no thumbnail yet]
Poison Spider Mesa.
[There's something wrong with the colormap on this image -- I'll re-scan the shot and upload a new one soon.]
[no thumbnail yet]
The Slickrock Trail, which has lots of challenging drop-offs.
[Both of these shots also need to be re-scanned.]
Native American petroglyphs near Moab.
---
Akkana's Mountain Biking Page.
Akkana's Photo Page.
Akkana's Home Page.
Mail Comments