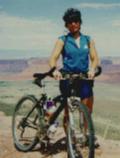 Slickrock Surf
(Akkana's extremely outdated mountain bike page)
One of my favorite pursuits is mountain biking. As far as I'm concerned, the most beautiful place in the world to do that is the Moab, Utah area, and I visit there whenever I can (every year or two). I've collected my Moab shots into a separate Moab page.

My bike is a '93 Cannondale M700, which I bought because it was one of the smallest mountain bikes made.. I'm short, 5'3", and finding a good small mountain bike is a challenge -- here's a brief writeup on small mountain bikes.
The Women's Mountain Bike and Tea Society can be a good source of information regarding women (of all sizes) and mountain biking.

Tahoe Flume Trail
Photos from a ride on the Flume Trail at Lake Tahoe.


Southwest Trip diary
Here's an account of a trip through the southwest on a week last September-October: we rode in Sedona, Page, Durango, and Moab, as well as visiting Hoover Dam, Mesa Verde, and Mono Lake.


A few of my other mountain biking shots can be found on my sports photography page.
---
Despite my enthusiasm for the southwest, I don't mean to imply that the San Francisco Bay area, where I live, doesn't have its own great mountain bike rides. Ross Finlayson and Doug Landauer have the definitive reference for local trails.

One of the best riding areas here is El Corte de Madera. This preserve is currently being evaluated, and some trails are in danger of being closed, so bay area mountain bikers need to get involved by helping with trail maintenance in order to keep these great trails open. In particular, we hope to prevent the district from "sanitizing" the trails, opening them up with their Sweco mini-bulldozer.
For more information on what the Sweco and its bretheren do to trails, see my Recreational Bulldozer Web Page of Shame.

The south bay is great for riding: some of my favorites besides El Corte de Madera are the Canyon Trail (Montebello OSP), Saratoga Gap and Long Ridge, and Purisima Creek. For beginners, Arastradero is a nice ride, as is the Grey Whale Trail near Montara.

I spectated at the "Bud Lite" mountain bike race at Briones (in the east bay), trying to capture the race on film. The temperature was brutal -- about 106 Fahrenheit -- and a kindly race worker was tossing cupfulls of water on racers as they passed by, which provided several fun photo opportunities.

Stevens Canyon Rd flooded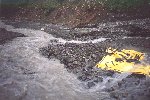 When heavy rains come, most local trails aren't good riding spots (unless you want to give land managers an excuse to blame erosion on mountain bikes and ban us from even more trails). But there are alternatives! Occasionally, Stevens Creek rises to cover paved Stevens Canyon Rd, which then becomes a technically challenging yet still ecologically sound MTB alternative. See my flood page for pictures.

---
Back to Akkana's Home Page.
Akkana (Mail Comments)
---
Links to other bicycling sites
Good sites of local (bay area) interest:
General bike stuff:
Advocacy / activism:
---
Shallow Sky Home
Mail Comments