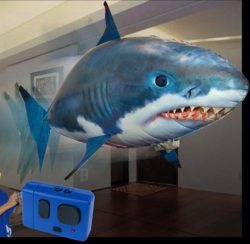 I got a request from SVLUG to fill in at the last minute for a speaker with a health emergency. Fortunately, I'd been slated to give them my Arduino talk from SCALE in a few months, so I was happy to accept. I'm always glad for a chance to show off Bruce, my Arduino- and Linux-controlled 6-foot flying robotic shark.
And if anyone reading this happens to be in town for PyCon, Symantec isn't that far from Santa Clara, roughly a 10-minute drive ... and I promise there will be at least two interesting Python scripts presented.
It's free, of course, so come hear the talk! Here are the SVLUG meeting details and directions.

[
19:25 Mar 06, 2012 More speaking | permalink to this entry |
]