Things have been hectic in the last few days before I leave for Montreal with last-minute preparation for our PyCon tutorial, Build your own PiDoorbell - Learn Home Automation with Python next Wednesday.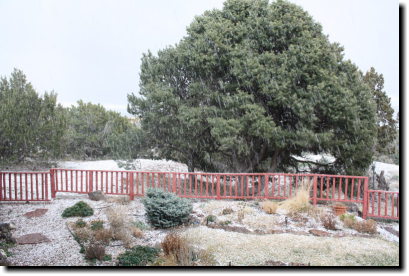 But New Mexico came through on my next-to-last full day with some pretty interesting weather. A windstorm in the afternoon gave way to thunder (but almost no lightning -- I saw maybe one indistinct flash) which gave way to a strange fluffy hail that got gradually bigger until it eventually grew to pea-sized snowballs, big enough and snow enough to capture well in photographs as they came down on the junipers and in the garden.
Then after about twenty minutes the storm stopped the sun came out. And now I'm back to tweaking tutorial slides and thinking about packing while watching the sunset light on the Rio Grande gorge.
But tomorrow I leave it behind and fly to Montreal. See you at PyCon!

[
18:55 Apr 06, 2014 More misc | permalink to this entry |
]