Santa Fe is a city that prides itself on its art. There are art galleries everywhere, glossy magazines scattered around town pointing visitors to the various art galleries and museums.
Why, then, is Santa Fe county public art so bad?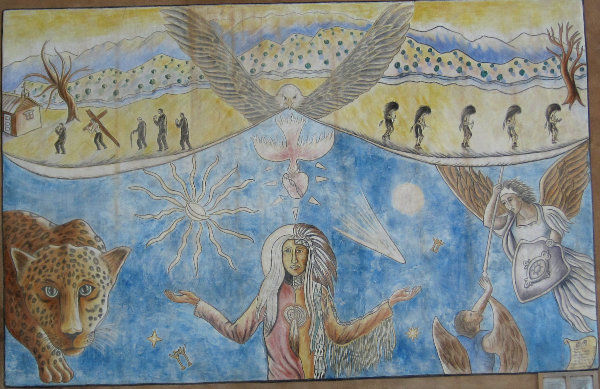 Like this mural near the courthouse. It has it all! It combines motifs of crucifixions, Indian dancing, Hermaphroditism, eagles, jaguars, astronomy, menorahs (or are they power pylons?), an angel, armed and armored, attempting to stab an unarmed angel, and a peace dove smashing its head into a baseball. All in one little mural!

But it's really the highway art north of Santa Fe that I wanted to talk about today.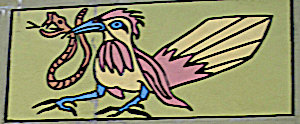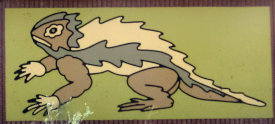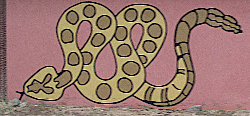 Some of it isn't totally awful. The roadrunner and the horned toad are actually kind of cute, and the rattlesnake isn't too bad.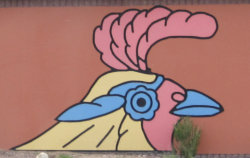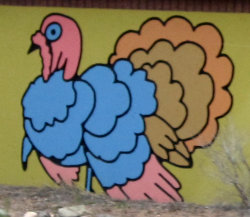 On the other hand, the rooster and turkey are pretty bad ...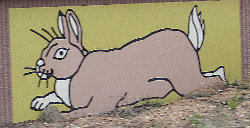 and the rabbit is beyond belief.

As you get farther away from Santa Fe, you get whole overpasses decorated with names and symbols: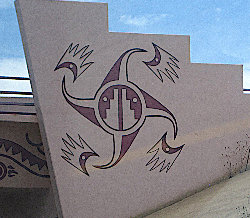 I think of this one near Pojoaque as the "happy dancing shuriken" -- it looks more like a Japanese throwing star, a shuriken, than anything else, though no doubt it has some deeper meaning to the Pojoaque pueblo people.

But my favorite is the overpass near Cuyamungue.

See those deer in the upper right and left corners?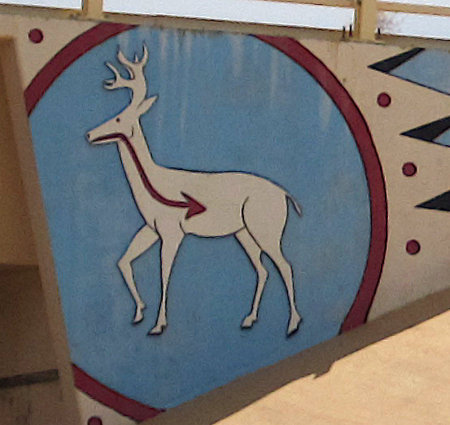 Here it is in close-up. We've taken to calling it "the digestive deer".
I can't figure out what this is supposed to tell us about a deer's alimentary tract. Food goes in ... and then we don't want to dwell on what happens after that? Is there a lot of foliage near Cuyamungue that's particularly enticing to deer? A "land of plenty", at least for deer? Do they then go somewhere else to relieve themselves?
I don't know what it means. But as we drive past the Cuyamungue digestive deer on the way to Santa Fe ... it's hard to take the city's airs of being a great center of art and culture entirely seriously.

[
12:40 Jun 06, 2014 More humor | permalink to this entry |
]