Yesterday was the Los Alamos Christmas Bird Count.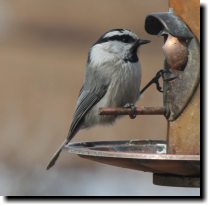 No big deal, right? Most counties have a Christmas Bird Count, a specified day in late December when birders hit the trails and try to identify and count as many birds as they can find. It's coordinated by the Audubon Society, which collects the data so it can be used to track species decline, changes in range in response to global warming, and other scientific questions. The CBC has come a long way from when it split off from an older tradition, the Christmas "Side Hunt", where people would hit the trails and try to kill as many animals as they could.
But the CBC is a big deal in Los Alamos, because we haven't had one since 1953. It turns out that to run an official CBC, you have to be qualified by Audubon and jump through a lot of hoops proving that you can do it properly. Despite there being a very active birding community here, nobody had taken on the job of qualifying us until this year. There was a lot of enthusiasm for the project: I think there were 30 or 40 people participating despite the chilly, overcast weather.
The team I was on was scheduled to start at 7. But I had been on the practice count in March (running a practice count is one of the hoops Audubon makes you jump through), and after dragging myself out of bed at oh-dark-thirty and freezing my toes off slogging through the snow, I had learned that birds are mostly too sensible to come out that early in winter. I tried to remind the other people on the team of what the March morning had been like, but nobody was listening, so I said I'd be late, and I met them at 8. (Still early for me, but I woke up early that morning.)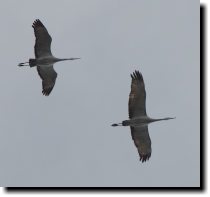 Sure enough, when I got there at 8, there was disappointment over how few birds there were. But actually that continued all day: the promised sun never came out, and I think the birds were hoping for warmer weather. We did see a good assortment of woodpeckers and nuthatches in a small area of Water Canyon, and later, a pair of very late-season sandhill cranes made a low flyover just above where we stood on Estante Way; but mostly, it was disappointing.
In the early afternoon, the team disbanded to go home and watch our respective feeders, except for a couple of people who drove down the highway in search of red-tailed hawks and to the White Rock gas station in search of rock pigeons. (I love it that I'm living in a place where birders have to go out of their way to find rock pigeons to count.)
I didn't actually contribute much on the walks. Most of the others were much more experienced, so mostly my role was to say "Wait, what's that noise?" or "Something flew from that tree to this one" or "Yep, sure enough, two more juncos." But there was one species I thought I could help with: scaled quail. We've been having a regular flock of scaled quail coming by the house this autumn, sometimes as many as 13 at a time, which is apparently unusual for this time of year. I had Dave at home watching for quail while I was out walking around.
When I went home for a lunch break, Dave reported no quail: there had been a coyote sniffing around the yard, scaring away all the birds, and then later there'd been a Cooper's hawk. He'd found the hawk while watching a rock squirrel that was eating birdseed along with the towhees and juncos: the squirrel suddenly sat up and stared intently at something, and Dave followed its gaze to see the hawk perched on the fence. The squirrel then resumed eating, having decided that a Cooper's hawk is too small to be much danger to a squirrel.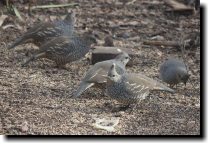 But what with all the predators, there had been no quail. We had lunch, keeping our eyes on the feeder area, when they showed up. Three of them, no, six, no, nine. I kept watch while Dave went over to another window to see if there were any more headed our way. And it turns out there was a whole separate flock, nine more, out in the yard. Eighteen quail in all, a record for us! We'd suspected that we had two different quail families visiting us, but when you're watching one spot with quail constantly running in and out, there's no way to know if it's the same birds or different ones. It needed two people watching different areas to get our high count ot 18. And a good thing: we were the only bird counters in the county who saw any quail, let alone eighteen. So I did get to make a contribution after all.
I carried a camera all day, but my longest regular lens (a 55-250 f/4-5.6) isn't enough when it comes to distant woodpeckers. So most of what I got was blurry, underexposed "record shots", except for the quail, cranes, and an obliging chickadee who wasn't afraid of a bunch of binocular-wielding anthropoids. Photos here: Los Alamos Christmas Bird Count, White Rock team, 2015.

[
14:21 Dec 20, 2015 More nature/birds | permalink to this entry |
]