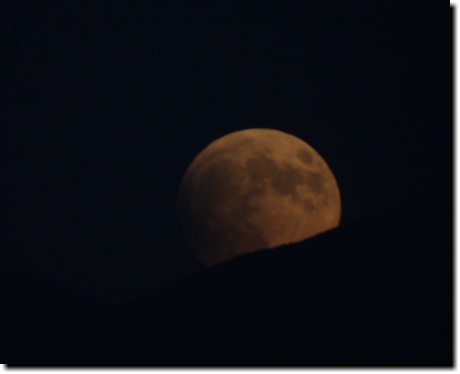 The lunar eclipse on Sunday was gorgeous. The moon rose already in eclipse, and was high in the sky by the time totality turned the moon a nice satisfying deep red.
I took my usual slipshod approach to astrophotography. I had my 90mm f/5.6 Maksutov lens set up on the patio with the camera attached, and I made a shot whenever it seemed like things had changed significantly, adjusting the exposure if the review image looked like it might be under- or overexposed, occasionally attempting to refocus. The rest of the time I spent socializing with friends, trading views through other telescopes and binoculars, and enjoying an apple tart a la mode.
So the images I ended up with aren't all they could be -- not as sharply focused as I'd like (I never have figured out a good way of focusing the Rebel on astronomy images) and rather grainy.
Still, I took enough images to be able to put together a couple of animations: one of the lovely moonrise over the mountains, and one of the sequence of the eclipse through totality.
Since the 90mm Mak was on a fixed tripod, the moon drifted through the field and I had to adjust it periodically as it drifted out. So the main trick to making animations was aligning all the moon images. I haven't found an automated way of doing that, alas, but I did come up with some useful GIMP techniques, which I'm in the process of writing up as a tutorial.
Once I got the images all aligned as layers in a GIMP image, I saved them as an animated GIF -- and immediately discovered that the color error you get when converting to an indexed GIF image loses all the beauty of those red colors. Ick!
So instead, I wrote a little Javascript animation function that loads images one by one at fixed intervals. That worked a lot better than the GIF animation, plus it lets me add a Start/Stop button.
You can view the animations (or the source for the javascript animation function) here: Lunar eclipse animations

[
12:55 Oct 01, 2015 More science/astro | permalink to this entry |
]