I'd been delaying this entry, hoping the hummingbirds would show up. I only have a couple of them right now: a male broad-tailed and a male black-chinned. I hope things will perk up later: in midsummer the rufous and calliope hummingbirds arrive and things usually get a lot more active. But meanwhile, I have an H entry to write.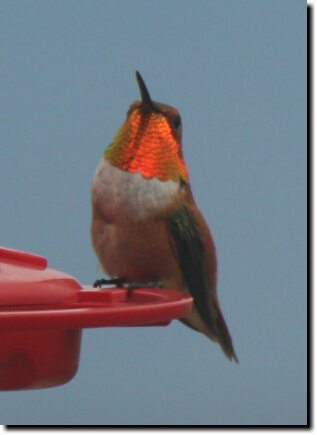 The black-chinned hummingbirds we have here now have a beautiful purple throat. With, yes, a little bit of black there. Why womeone would look at a bird with an iridescent purple throat with a small black border and name it "black-chinned" is beyond me.
Unfortunately, this purple throat is even more sensitive to light angle than other hummingbirds' colors, and I haven't been able to get a photo that really shows it. Hummingbird feathers -- and particularly the feathers of the males' colorful throats -- have a structure that diffracts the light, creating beautiful iridescent colors that only show up when the sun is at just the right angle. If you watch a male black-chinned hummer at the feeder, its throat will look black most of the time, with occasional startling flashes of purple. You have to take a lot of photos and get lucky with timing to catch the flash. I'll get it some day. Meanwhile, here's a lovely black-chinned hummingbird photo from Arizona.
So instead, here's a photo of a male rufous hummingbirds, which will show up later in the summer. Rufous are a lot easier to photograph. Their brilliant copper-colored throats show up from a much wider range of angles, and rufous males are even more territorial than other hummers, so once one decides it owns your feeder, it will pose in the sunlight for most of the day, ready to chase any pretenders away.


[
20:02 Apr 19, 2020 More nature/birds | permalink to this entry |
]