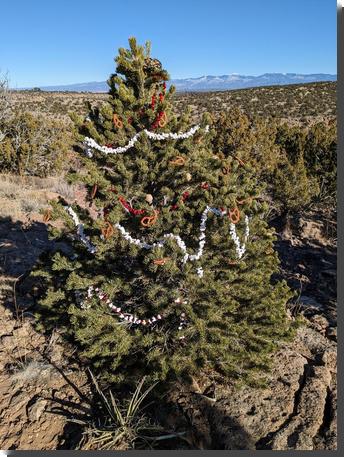 Dave and I took our bikes to Knife Edge trail last week to see how it stacked up as a biking trail.
Answer: most of it is ridable, except for the short "knife edge" section that inspired its name ... but it's pretty rocky and bumpy, making it not as fun as other nearby trails. Still, it's a beautiful place with great views.
But there was a reward at the end. Someone had decorated a piñon tree at the very end of the trail. Even better, they used edible decorations — popcorn, berries, pretzels, and what looked like seed balls. Should be popular with the local wildlife!
If you can't make it to the end of Knife Edge, have a festive holiday season anyway!

[
18:29 Dec 23, 2022 More humor | permalink to this entry |
]