I've long been wanting an "action camera" to shoot mountain biking, and maybe R/C plane, videos.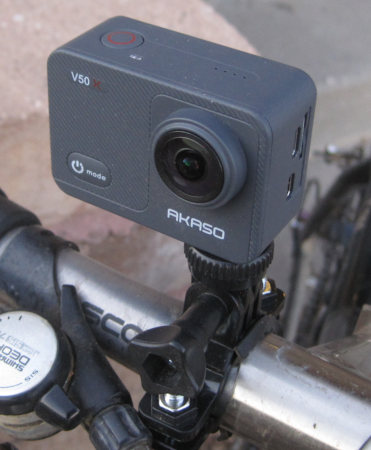 Last week I ordered an Akaso V50x. Everybody seems to agree that Akaso offers the best bang-for-the-buck, but choosing among Akaso's large and varied collection of models isn't easy, especially since there aren't many comparisons between the V50 line and the Brave line. The V50x was well-liked by most reviewers, and gets high praise for its digital stabilization ("6-axis", which apparently means three axes of translation plus three gyro-driven rotation axes).
I worried, though, that all the sample V50X videos I found on YouTube were severely underexposed, and I had written it off my list until I stumbled upon a review that listed all the V50x Settings options and I learned it offers exposure compensation (which it calls "Exposure value").
In the few days I've had the Akaso I've been fairly impressed. The stabilization is indeed very good — if anything, it's almost too good,

[
17:46 Nov 15, 2022 More photo | permalink to this entry |
]