As part of the advertising for next month's Los Alamos Artists Studio Tour (October 15 & 16), the Bandelier Visitor Center in White Rock has a display case set up, and I have two pieces in it.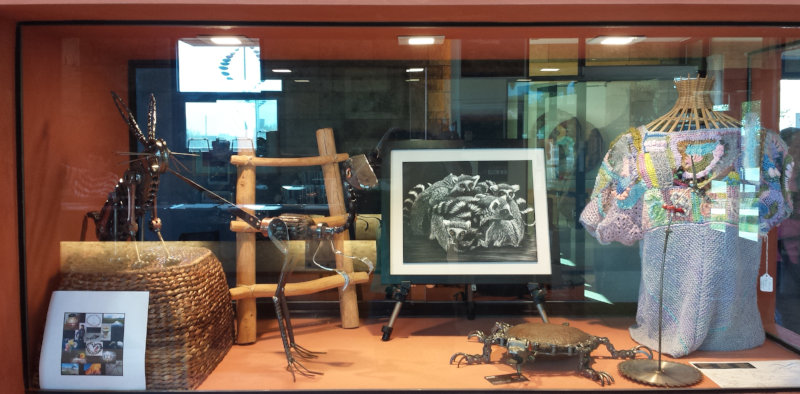 The Velociraptor on the left and the hummingbird at right in front of the sweater are mine. (Sorry about the reflections in the photo -- the light in the Visitor Center is tricky.)

The turtle at front center is my mentor David Trujillo's, and I'm pretty sure the rabbit at far left is from Richard Swenson.
The lemurs just right of center are some of Heather Ward's fabulous scratchboard work. You may think of scratchboard as a kids' toy (I know I used to), but Heather turns it into an amazing medium for wildlife art. I'm lucky enough to get to share her studio for the art tour: we didn't have a critical mass of artists in White Rock, just two of us, so we're borrowing space in Los Alamos for the tour.
[
10:38 Sep 12, 2016 More art | permalink to this entry |
]