Saturday, a friend led a group hike for the nature center from the Caja del Rio down to the Rio Grande.
The Caja (literally "box", referring to the depth of White Rock Canyon) is an area of national forest land west of Santa Fe, just across the river from Bandelier and White Rock. Getting there involves a lot of driving: first to Santa Fe, then out along increasingly dicey dirt roads until the road looks too daunting and it's time to get out and walk.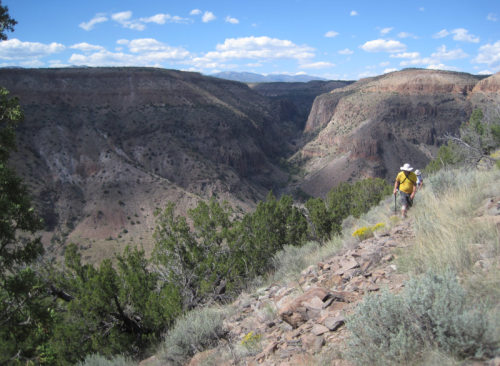 From where we stopped, it was only about a six mile hike, but the climb out is about 1100 feet and the day was unexpectedly hot and sunny (a mixed blessing: if it had been rainy, our Rav4 might have gotten stuck in mud on the way out). So it was a notable hike. But well worth it: the views of Frijoles Canyon (in Bandelier) were spectacular. We could see the lower Bandelier Falls, which I've never seen before, since Bandelier's Falls Trail washed out below the upper falls the summer before we moved here. Dave was convinced he could see the upper falls too, but no one else was convinced, though we could definitely see the red wall of the maar volcano in the canyon just below the upper falls.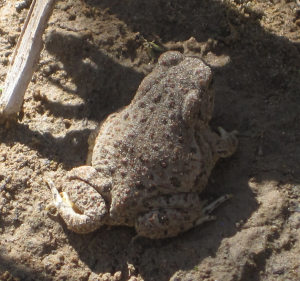 We had lunch in a little grassy thicket by the Rio Grande, and we even saw a few little frogs, well camouflaged against the dirt: you could even see how their darker brown spots imitated the pebbles in the sand, and we wouldn't have had a chance of spotting them if they hadn't hopped. I believe these were canyon treefrogs (Hyla arenicolor). It's always nice to see frogs -- they're not as common as they used to be. We've heard canyon treefrogs at home a few times on rainy evenings: they make a loud, strange ratcheting noise which I managed to record on my digital camera. Of course, at noon on the Rio the frogs weren't making any noise: just hanging around looking cute.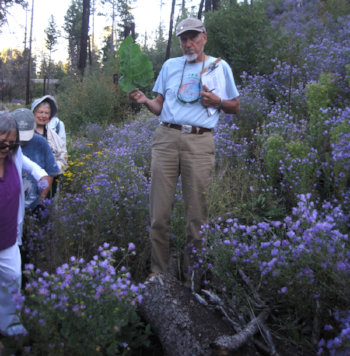 Sunday we drove around the Pojoaque Valley following their art tour, then after coming home I worked on setting up a new sandblaster to help with making my own art. The hardest and least fun part of welded art is cleaning the metal of rust and paint, so it's exciting to finally have a sandblaster to help with odd-shaped pieces like chains.
Then tonight was a flower walk in Pajarito Canyon, which is bursting at the seams with flowers, especially purple aster, goldeneye, Hooker's evening primrose and bahia. Now I'll sign off so I can catalog my flower photos before I forget what's what.

[
20:17 Sep 19, 2016 More nature | permalink to this entry |
]