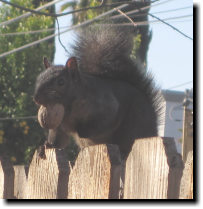 We've been having occasional visits from black squirrels for maybe five years now, but mostly they're shy and don't stay long.
Black squirrels are interesting. As far as I know, they're a color variation of the usual Eastern grey squirrel we get as our most common yard visitor here in San Jose. (For a while we got a lot of Eastern Fox squirrels, but I guess that population moved away since I haven't seen one in years.) Our native Western greys are larger and more wary, and keep to the hills and forests, never venturing down into the city.
Black squirrels have been common in Palo Alto for many decades, I'm told, but it's only in the last five or ten years that they've started expanding southward. First I would see a few in Sunnyvale and Mountain View, then a couple in Campbell, and then, finally, a few years after that, they made it here to West San Jose. (Campbell is farther south than our house, but the squirrels as they expanded their range probably moved toward the less urban hills and parks.)
This year we had our first friendly, regular black squirrel visitor. I called him Little Blackie after the pony in True Grit. He's by far the most beautiful squirrel we've ever had -- his fur glistens in the sun and looks amazingly soft. Unfortunately he's also difficult to photograph well -- the point-and-shoot tends not to focus on him very well, and he's always underexposed even when I use exposure compensation.
LB was very quick (as squirrels go) to figure out that our fencepost was a good source of walnuts, and even pretty quick to make the association that people near the office door means that another nut may appear soon. (Most squirrels take forever to figure that out, and when you come out to put up another nut, they run away and don't come back for hours.)
After a few months of regular feeding, he was tolerating us only a few feet away as we put nuts on the fencepost, and then it was a few more months before he worked up the courage to take nuts from our hands. He still doesn't linger -- he grabs the nut and runs.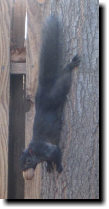 This morning he was quite entertaining, when he decided I was coming out too slowly (I try not to make sudden movements when approaching wild animals) and jumped from the fencepost to run along the gate. I met him halfway, and offered the nut to him as he sat on the gate. He grabbed it, but his nervousness about being in a different place made him too hasty, and he missed his grab and the nut went bouncing down onto the driveway.
He looked at me with a bemused expression, jumped back to the fencepost and ran back along the fence -- but couldn't quite work up the nerve to run down and get the nut off the driveway. So I fetched it for him, and offered it to him up on the fence.
Nothing doing -- that was too weird. So he waited until I went back to the fencepost, whereupon he scampered right over, grabbed the nut and ran off to hang from the tree.
Wacky Blackie! Here are the best photos of him I've been able to get so far: Little Blackie, our black squirrel.
[
11:29 Jan 19, 2014 More nature/squirrels | permalink to this entry |
]