We recently returned from a quick whirlwind trip through a series of towns in the Four Corners area: the place where Arizona, New Mexico, Colorado and Utah come together.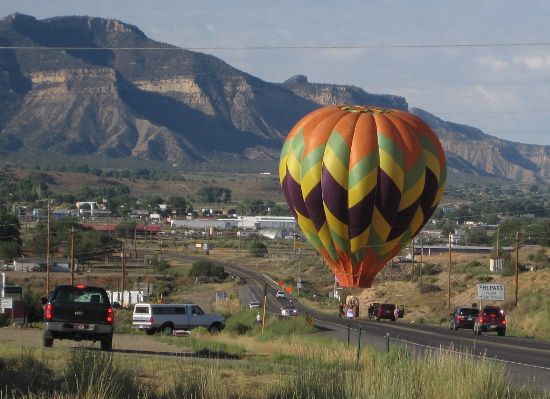 One highlight: watching hot-air balloons floating across the sky against the backdrop of Mesa Verde in Cortez, CO ... and watching one accidentally land in the middle of the highway in front of our motel (the White Eagle Inn, a charming little place with super nice owners).
Cars stopped on the highway while someone jumped out of the basket and pushed the balloon toward the side of the road. The truck on the left is the chase crew.
(And yes, that's a powerline in the foreground, very close to where the balloon came down.)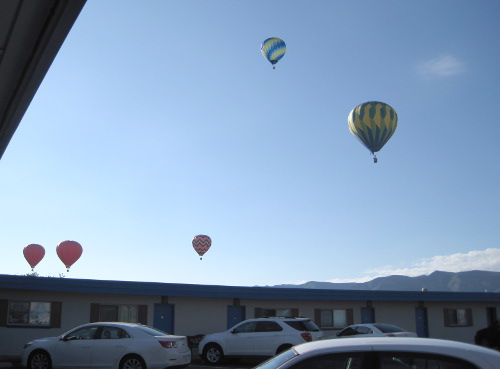 The sky was full of balloons, and the hotel was as good a place as any to watch them. Quite a way to start the morning!

Other highlights:
The view of the Rio Grande from the White Rock Overlook with lightning flashing in the background.

(No lightning in the photo, just a 13-image panorama. Click for a bigger version.)

Dinner at Rancho de Chimayo. I had their famous carne adovada, Dave had a stuffed sopaipilla with green chile, and we shared. And sopaipillas with honey on the side, of course. They're just as good as they were the first time I was there ... was that really a quarter century ago?
All the motels that are using WPA passwords for their wi-fi, instead of stupid browser pages that you have to re-authenticate every time the connection drops. Things are looking up, gradually, for motel wi-fi.

Heading back into California, driving past Primm, NV, we checked out the progress on the new solar tower collector being built at old Ivanpah. It's changed a lot since we were there last. It looks like one tower is operational (though its mirror array doesn't appear to extend all the way around yet), while two more towers have mirror arrays but still have covers over the central tower.

[
21:15 Sep 02, 2013 More travel | permalink to this entry |
]