We went for a little afternoon walk at RSA yesterday. I was out of the car and waiting for Dave when I saw motion out of the corner of my eye and heard a
thump!
of something hitting the ground a few feet away. Maybe something fell out of that tree? It sounded like it fell right ... there ... what's that? It looks almost like ... a bird? But why would a bird fall out of a tree? Is it dead?
And then the bird came to life, stretched its wings, and turned into a kestrel that exploded off the ground and flew away. I never did see if it caught whatever it was after, but I'm happy to have had the chance to see the little falcon make a strike so close to me.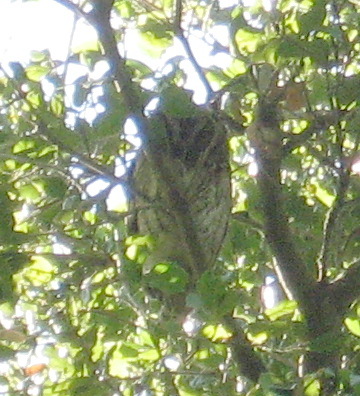 Later, on the trail, a spotted towhee burst out of a tree and flew past us. Then a small woodpecker emerged from the same cluster of branches the towhee had just left. As we drew nearer we could hear quite a commotion up in the branches ... a dozen or more small birds, mostly chickadees, chattering and darting in and out like bees around a hive. It seemed centered on ... that unmoving spot there ... wait, doesn't it look a bit owl-shaped to you?
I snapped a few pictures, but none of the small owls in the bird guides have a facial pattern like this. It was smaller than a screech owl, but young screech owl is still my best guess.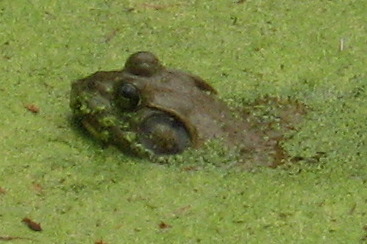 And as long as I'm posting nature pictures, the bullfrogs are back at the Walden West Scum Lake. Just floatin' there, though ... they weren't making any noise or moving around.

[
23:18 May 30, 2008 More nature/birds | permalink to this entry |
]