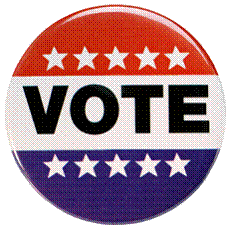 I'm happy to say that our state League of Women Voters Voter Guides are out for the 2016 election.
My grandmother was active in the League of Women Voters most of her life (at least after I was old enough to be aware of such things). I didn't appreciate it at the time -- and I also didn't appreciate that she had been born in a time when women couldn't legally vote, and the 19th amendment, giving women the vote, was ratified just a year before she reached voting age. No wonder she considered the League so important!
The LWV continues to work to extend voting to people of all genders, races, and economic groups -- especially important in these days when the Voting Rights Act is under attack and so many groups are being disenfranchised. But the League is important for another reason: local LWV chapters across the country produce detailed, non-partisan voter guides for each major election, which are distributed free of charge to voters. In many areas -- including here in New Mexico -- there's no equivalent of the "Legislative Analyst" who writes the lengthy analyses that appear on California ballots weighing the pros, cons and financial impact of each measure. In the election two years ago, not that long after Dave and I moved here, finding information on the candidates and ballot measures wasn't easy, and the LWV Voter Guide was by far the best source I saw. It's the main reason I joined the League, though I also appreciate the public candidate forums and other programs they put on.
LWV chapters are scrupulous about collecting information from candidates in a fair, non-partisan way. Candidates' statements are presented exactly as they're received, and all candidates are given the same specifications and deadlines. A few candidates ignored us this year and didn't send statements despite repeated emails and phone calls, but we did what we could.
New Mexico's state-wide voter guide -- the one I was primarily involved in preparing -- is at New Mexico Voter Guide 2016. It has links to guides from three of the four local LWV chapters: Los Alamos, Santa Fe, and Central New Mexico (Albuquerque and surrounding areas). The fourth chapter, Las Cruces, is still working on their guide and they expect it soon.
I was surprised to see that our candidate information doesn't include links to websites or social media. Apparently that's not part of the question sheet they send out, and I got blank looks when I suggested we should make sure to include that next time. The LWV does a lot of important work but they're a little backward in some respects. That's definitely on my checklist for next time, but for now, if you want a candidate's website, there's always Google.
I also helped a little on Los Alamos's voter guide, making suggestions on how to present it on the website (I maintain the state League website but not the Los Alamos site), and participated in the committee that wrote the analysis and pro and con arguments for our contentious charter amendment proposal to eliminate the elective office sheriff. We learned a lot about the history of the sheriff's office here in Los Alamos, and about state laws and insurance rules regarding sheriffs, and I hope the important parts of what we learned are reflected in both sides of the argument.
The Voter Guides also have a link to a Youtube recording of the first Los Alamos LWV candidate forum, featuring NM House candidates, DA, Probate judge and, most important, the debate over the sheriff proposition. The second candidate forum, featuring US House of Representatives, County Council and County Clerk candidates, will be this Thursday, October 13 at 7 (refreshments at 6:30). It will also be recorded thanks to a contribution from the AAUW.
So -- busy, busy with election-related projects. But I think the work is mostly done (except for the one remaining forum), the guides are out, and now it's time to go through and read the guides. And then the most important part of all: vote!

[
16:08 Oct 11, 2016 More politics | permalink to this entry |
]