Summary:
Castle Peaks hiking corridor: A rocky road with a couple of tricky sandy gulches takes you to a hike along a wash leading to gorgeous views of basalt and breccia and eventually the Castle Peaks, ragged spires that look like volcanic necks.
Hart Mine: A smooth, easy road takes you to an abandoned town site and a collossal open-pit mine.
Castle Peaks hiking corridor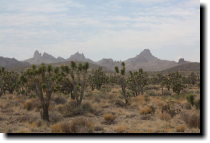 Our goal on Tuesday was the "Castle Peaks Hiking Corridor". The Trails Illustrated map showed a side road leading northwest from Walking Box Ranch Rd and eventually petering out to become a hiking trail that went, if not actually to Castle Peaks, at least close enough to get a good look.
Castle Peaks are the rugged spikes you see from I-15 between Mountain Pass and Primm, jutting into the skyline and giving the New York Mountains their appearance of skyscrapers which must be the reason for the range's name. They're eroded fins of eroded Miocene volcanics, surrounded by Precambian metamorphic rocks.
Walking Box Ranch Rd is easy to find off Nipton Rd -- not only is it a prominent, wide dirt road but there's even a road sign, a few miles after the eastern end of the Wee Thump Joshua Tree wilderness (on the north side of Nipton Rd). I'd like to explore Wee Thump and its impressive Joshua trees some day.
The road is good, open and well graded, notwithstanding the humorous "Road not maintained" sign you encounter a few miles in. The side roads follow the map well enough, so it wasn't too difficult to identify the Castle Peaks turn-off. It's a 4-way intersection, not 3-way as shown on the map.
The Castle Peaks road is much narrower and alternates between sandy stretches and dirt. Mostly it's nothing difficult, but the rocky sections are slow going (first gear), there's a high center rut and you cross a couple of washes that make you stop and think about the right line. There are also a couple of sections where the road splits and the higher fork leads to a washed-out chasm, so proceed with due caution.
Eventually the road deteriorated and we parked and continued on foot, along the road and eventually through the gate that marks the Wilderness area boundary. After that the trail crosses through an area of basalt breccia -- the northwestern limit of the "malpais" lava area concentrated around Malpais Springs.
The icy wind dissuaded us from trying to go all the way to Castle Peaks (the trail doesn't go there anyway) but we did get a good view of them as well as nice views of Joshua trees and the malpais.
After our hike, we retraced our steps and crossed over along smooth, good roads to the deserted Hart townsite.

Hart Site: Ozymandius in the Mojave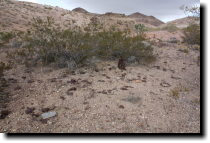 Hart was a mining town established in 1907. At its peak it had five hotels, 8 saloons, a newspaper and about 400 residents. And today, what you can see of the town is ... a lot of rusted cans.
That's all. No buildings. No walls. But I guess when Hart's residents departed, they left their trash behind, and scattered among the yucca and creosote you can find collections of rusted cans and a few glass bottles darkening in the desert sun.
It's sobering. What happened to all the buildings? Where are those hotels and saloons and hundreds of houses? Apparently if you search long enough, you can find a few tiny segments of walls -- but mostly, this boom town has crumbled into nothingness. And trash.
It reminds me of Percy Bysshe Shelley's Ozymandius:
And on the pedestal these words appear:
"My name is Ozymandias, king of kings:
Look on my works, ye Mighty, and despair!"
Nothing beside remains. Round the decay
Of that colossal wreck, boundless and bare,
The lone and level sands stretch far away

There's no shattered visage -- just a plaque giving the history of the town, the expansive pit mine nearby, and the garbage quietly rusting away in the lone and level sands.

Photos and GPS log:
Photos
Track log
Waypoints

[
14:03 Nov 14, 2009 More travel/mojave | permalink to this entry |
]