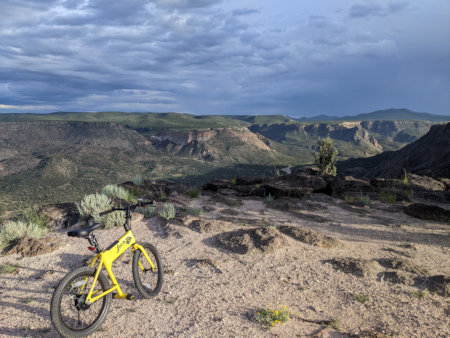 I wrote in midsummer about the fun Dave and I were having on our Lectric ebikes. We've been riding the Lectrics most days for errand running and jaunts across town, and it's gotten us back into pedalling our regular mountain bikes again, too.
But then one day a big box showed up on the doorstep. Dave had been lusting after a different sort of ebike: a Jackrabbit. He'd spent a little too much time watching videos of the super portable micro-ebike and decided he had to have one. The Jackrabbit is a tiny thing, kind of like a kid's BMX bike (with the 20-inch tires of a BMX bike) — except even smaller.
It can be smaller because, unlike most ebikes, it has no pedals. It's electric only. And that means that clearance between the pedal and the front wheel isn't a problem, so they can make it much smaller than a pedal bike. It's light, too, at 24 pounds, so it's super fast and easy to load in a car or onto a bus rack.
"A bike without pedals," you say. "What's the point?" At least, that was my reaction. Part of what I like about the Lectrics is the way they got both of us pedalling regularly again.
"The point?" Dave said, grinning wildly as he dismounted. "Try it!"
And I have to admit, my grin was just as big when I came back from a short loop around the neighborhood trail. The Jackrabbit won't get you in shape like a pedal bike — but oh my gosh, it's fun to ride, so lightweight and tiny and flickable. It only has about a ten-mile range (though you could carry a spare battery, they're not very big), but that's plenty for errand-running or getting around a small town.
(I was still dragging my feet about actually buying a bike without pedals, so Dave forced the issue by ordering me one for my birthday.)
Today, we took the jacks out Kwage Mesa trail to look for some parts I'd lost from my mountain bike on an earlier ride (long story; happily, we found the parts). They're neither as capable nor as comfortable on trails as a "real" mountain bike, but you hardly care because you're grinning so hard after flying over the series of jumps on the road down, or dancing over the rocky singletrack coming back up.

[
20:01 Nov 08, 2022 More bike | permalink to this entry |
]