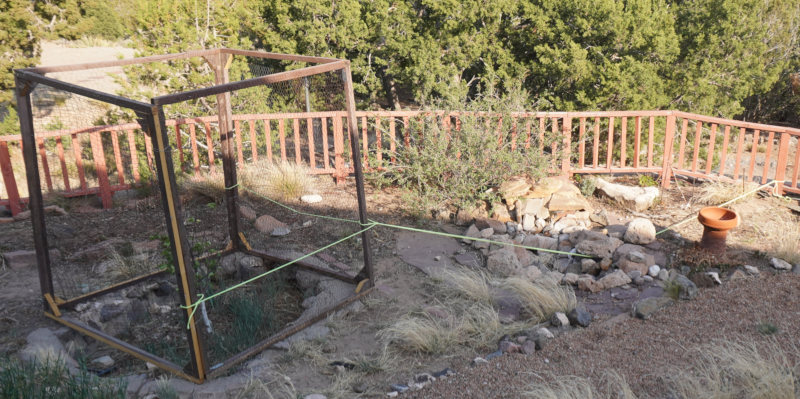 It's the windy season, and the winds are crazy here. I'm pretty sure I saw a house, some flying monkeys and a woman on a bicycle fly past the window twenty minutes ago.
I'm not sure precisely how crazy — our weather station is only showing a max of 18 mph, which mostly means there are too many trees around it, but the weather station at TA54 just up the road is reading 26 right now, with a max of 48.3.
The cage that I built this spring to keep the deer away from the apple tree (not that it ever flowers or fruits anyway) keeps wanting to slide into the tree or topple over on top of it. I had to jump up twice during dinner and run out to rescue it. So now it's tied to some big rocks and, if those lose their grip, it's also tied to the fence.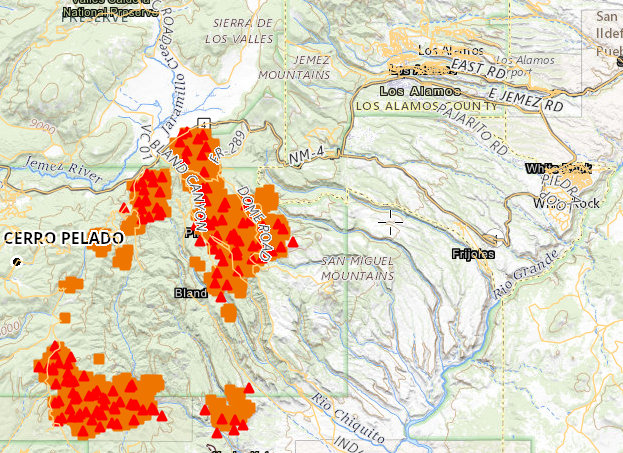 This means bad things for the Cerro Pelado fire raging in the Jemez, Last night it jumped FR 289, the Dome Road, which LANL and the county have been using as an indicator of risk to the lab and the town, so we're all on alert. As I write, it looks like it's about ten and a half miles from White Rock, seven miles from Los Alamos and only three and a half miles from the nearest corner of LANL, and I'm keeping an eye on the excellent fire map from MappingSupport.com (that link will open an interactive version).
I can scarcely imagine what the firefighters are going through, out there on the front lines, trying to fight a fire in this wind. It was an unseasonably hot day, too.
They've closed all the county trails, plus Overlook Park, which will be used as a staging area. And we're being advised to pack a "go bag" and be ready to evacuate on short notice. Hopefully they'd evacuate Los Alamos before White Rock, since the fire is a lot farther from here, and that's what they've done in the past (though this is the first close fire since we moved here). And since we only have one road out from White Rock, it'll be a parking lot for many hours if they try to clear both towns at the same time.

Of course, where there's fire, there's smoke. Here's a smoke map from fire.airnow.gov (click on the image to get to the interactive map), plus a shot of White Rock Canyon a few days ago, when smoke was completely filling the canyon, making it a lot less scenic than usual. The winds are so changeable that the smoke comes and goes in any given location, but it's been bad from here to Santa Fe for a week at least.
So I guess I'd better get back to packing my "go bag" and making a list of things to take, just in case ...
[
19:49 May 08, 2022 More nature | permalink to this entry |
]