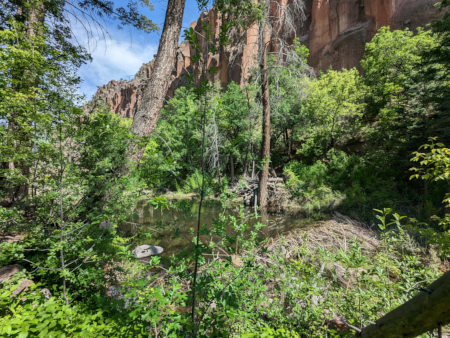 A couple of years ago, while hiking up Frijoles Canyon in Bandelier we came across some hikers one of whom carried a huge boxy backpack with a sheet over it.
We asked about it, and it turned out they were carrying a pair of beavers for release.
Like many places in the western US, Frijoles Creek used to have quite a population of beavers, but they were all wiped out for one reason or another. Now, park officials are trying to repopulate them.
It looks like it's working. We had heard rumours of beaver dams and beaver ponds, and about a month ago we hiked up Frijoles Canyon to see what beaver evidence we could see.
(Okay, another reason to go was that it's a beautiful hike to the natural bridge, past stunning walls of volcanic tuff, ancestral puebloan ruins, tent rocks and all sorts of other fun sights.)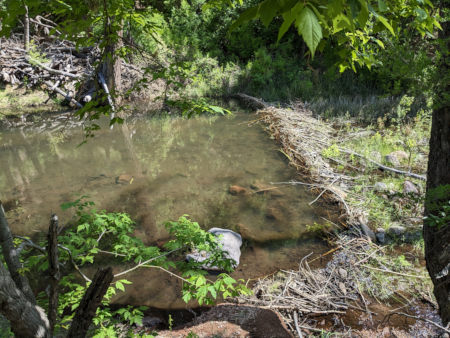 We counted at least 7 beaver dams and beaver ponds along the creek between Alcove House and the Natural Bridge. As far as we know, these are all from that one beaver pair, though maybe they've had kits (that turns out to be what you call baby beavers) by now and there are several families of beavers living along Frijoles Creek.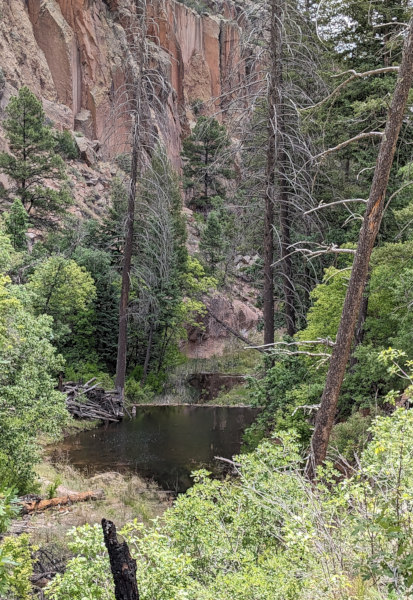 I don't know if they're planning to release more beavers, but there's plenty of creek real estate left. We never did spot an actual beaver (I have yet to see one in real life), but we were all happy to see the beavers doing so well.

[
19:21 Jul 07, 2023 More nature | permalink to this entry |
]