I just got back from a trip to the Chiricahuas, specifically Cave Creek. More on that later, after I've done some more photo triaging. But first, a story from the road.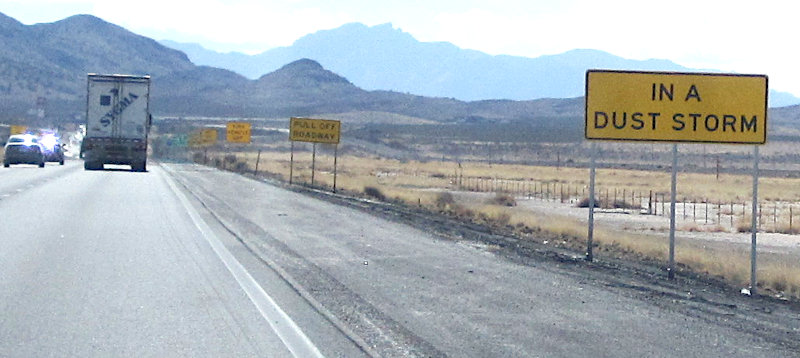 Driving on I-10 in New Mexico near the Arizona border, we saw several signs about dust storms. The first one said,
ZERO VISIBILITY IS POSSIBLE
Dave commented, "I prefer the ones that say, 'may exist'." And as if the highway department heard him, a minute or two later we passed a much more typical New Mexico road sign:
DUST STORMS MAY EXIST
New Mexico, the existential state.
But then things got more fun. We drove for a few more miles, then we passed a sign that obviously wasn't meant to stand alone:
IN A DUST STORM
"It's a Burma Shave!" we said simultaneously. (I'm not old enough to remember Burma Shave signs in real life, but I've heard stories and love the concept.) The next sign came quickly:
PULL OFF ROADWAY
"What on earth are they going to find to rhyme with 'roadway'?" I wondered. I racked my brains but couldn't come up with anything. As it turns out, neither could NMDOT. There were three more signs:
TURN VEHICLE OFF
FEET OFF BRAKES
STAY BUCKLED

"Hmph", I thought. "What an opportunity missed." But I still couldn't come up with a rhyme for "roadway". Since we were on Interstate 10, and there's not much to do on a long freeway drive, I penned an alternative:
IN A DUST STORM
PULL OFF TEN
YOU WILL LIVE
TO DRIVE AGAIN

Much better, isn't it? But one thing bothered me: you're not really supposed to pull all the way off Interstate 10, just onto the shoulder. How about:
IN A DUST STORM
PULL TO SHOULDER
YOU WILL LIVE
TO GET MUCH OLDER

I wasn't quite happy with it. I thought my next attempt was an improvement:
IN A DUST STORM
PULL TO SHOULDER
YOU MAY CRASH IF
YOU ARE BOLDER

but Dave said I should stick with "GET MUCH OLDER".
Oh, well. Even if I'm not old enough to remember real Burma Shave signs, and even if NMDOT doesn't have the vision to make their own signs rhyme, I can still have fun with the idea.
[
16:05 Mar 26, 2018 More travel | permalink to this entry |
]