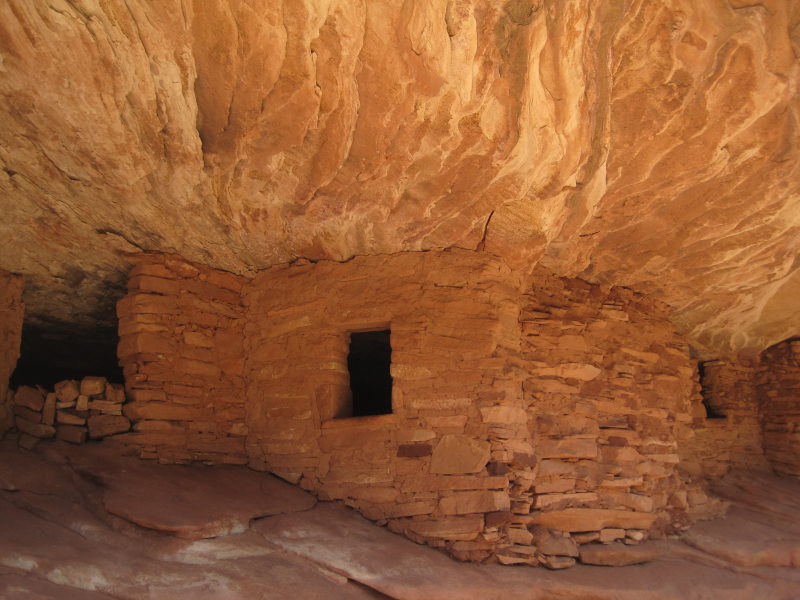 Last week, my hiking group had its annual trip, which this year was Bluff, Utah, near Comb Ridge and Cedar Mesa, an area particular known for its Anasazi ruins and petroglyphs.
(I'm aware that "Anasazi" is considered a politically incorrect term these days, though it still seems to be in common use in Utah; it isn't in New Mexico. My view is that I can understand why Pueblo people dislike hearing their ancestors referred to by a term that means something like "ancient enemies" in Navajo; but if they want everyone to switch from using a mellifluous and easy to pronounce word like "Anasazi", they ought to come up with a better, and shorter, replacement than "Ancestral Puebloans." I mean, really.)
The photo at right is probably the most photogenic of the ruins I saw. It's in Mule Canyon, on Cedar Mesa, and it's called "House on Fire" because of the colors in the rock when the light is right.
The light was not right when we encountered it, in late morning around 10 am; but fortunately, we were doing an out-and-back hike. Someone in our group had said that the best light came when sunlight reflected off the red rock below the ruin up onto the rock above it, an effect I've seen in other places, most notably Bryce Canyon, where the hoodoos look positively radiant when seen backlit, because that's when the most reflected light adds to the reds and oranges in the rock.
Sure enough, when we got back to House on Fire at 1:30 pm, the light was much better. It wasn't completely obvious to the eye, but comparing the photos afterward, the difference is impressive: Changing light on House on Fire Ruin.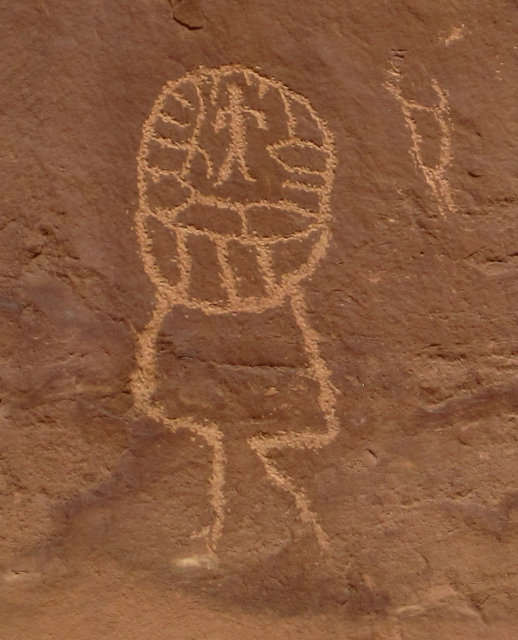 The weather was almost perfect for our trip, except for one overly hot afternoon on Wednesday. And the hikes were fairly perfect, too -- fantastic ruins you can see up close, huge petroglyph panels with hundreds of different creatures and patterns (and some that could only have been science fiction, like brain-man at left), sweeping views of canyons and slickrock, and the geology of Comb Ridge and the Monument Upwarp.
And in case you read my last article, on translucent windows, and are wondering how those generated waypoints worked: they were terrific, and in some cases made the difference between finding a ruin and wandering lost on the slickrock. I wish I'd had that years ago.
Most of what I have to say about the trip are already in the comments to the photos, so I'll just link to the photo page:
[
19:28 Apr 20, 2017 More travel | permalink to this entry |
]