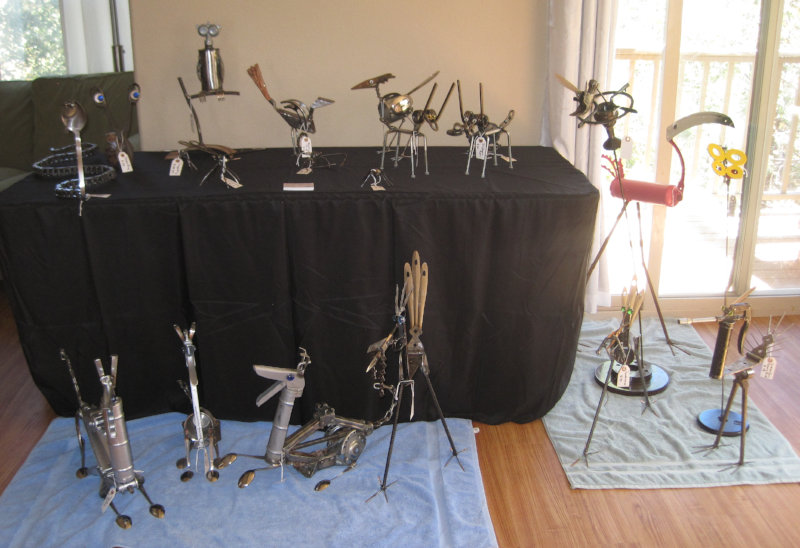 The Los Alamos Artists Studio Tour was last weekend. It was a fun and somewhat successful day.
I was borrowing space in the studio of the fabulous scratchboard artist Heather Ward, because we didn't have enough White Rock artists signed up for the tour.
Traffic was sporadic: we'd have long periods when nobody came by (I was glad I'd brought my laptop, and managed to get some useful development done on track management in pytopo), punctuated by bursts where three or four groups would show up all at once.
It was fun talking to the people who came by. They all had questions about both my metalwork and Heather's scratchboard, and we had a lot of good conversations. Not many of them were actually buying -- I heard the same thing afterward from most of the other artists on the tour, so it wasn't just us. But I still sold enough that I more than made back the cost of the tour. (I hadn't realized, prior to this, that artists have to pay to be in shows and tours like this, so there's a lot of incentive to sell enough at least to break even.) Of course, I'm nowhere near covering the cost of materials and equipment. Maybe some day ...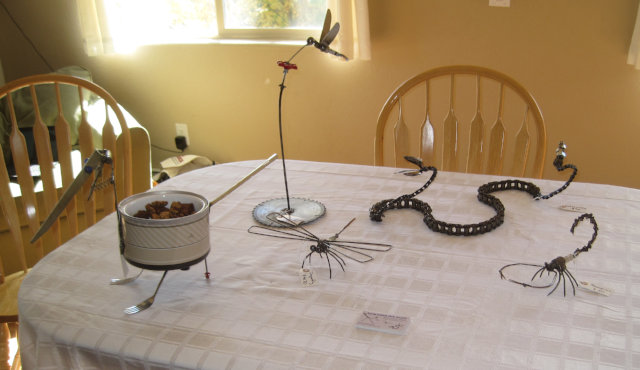 I figured snacks are always appreciated, so I set out my pelican snack bowl -- one of my first art pieces -- with brownies and cookies in it, next to the business cards.
It was funny how wrong I was in predicting what people would like. I thought everyone would want the roadrunners and dragonflies; in practice, scorpions were much more popular, along with a sea serpent that had been sitting on my garage shelf for a month while I tried to figure out how to finish it. (I do like how it eventually came out, though.)
And then after selling both my scorpions on Saturday, I rushed to make two more on Saturday night and Sunday morning, and of course no one on Sunday had the slightest interest in scorpions. Dave, who used to have a foot in the art world, tells me this is typical, and that artists should never make what they think the market will like; just go on making what you like yourself, and hope it works out.
Which, fortunately, is mostly what I do at this stage, since I'm mostly puttering around for fun and learning.
Anyway, it was a good learning experience, though I was a little stressed getting ready for it and I'm glad it's over. Next up: a big spider for the front yard, before Halloween.

[
20:17 Oct 22, 2016 More art | permalink to this entry |
]