We drove up to Taos today to see the Earthships.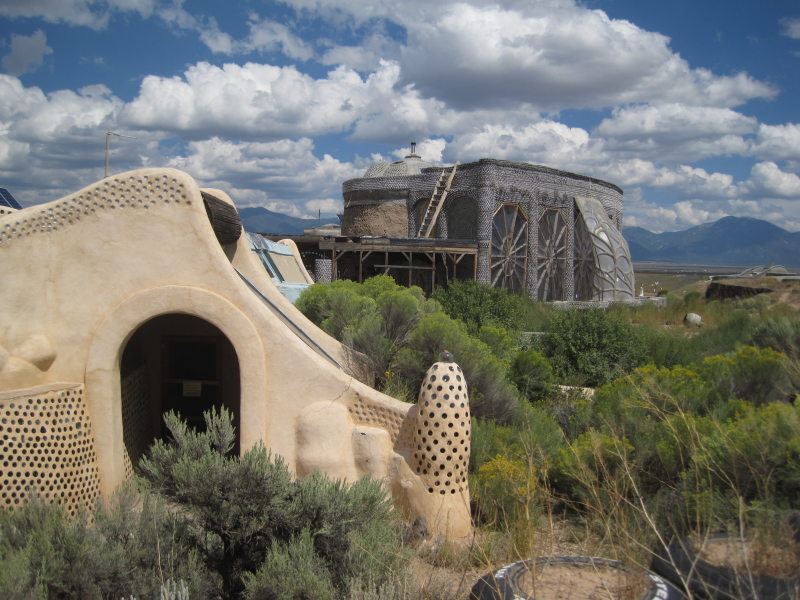 Earthships are sustainable, completely off-the-grid houses built of adobe and recycled materials. That was pretty much all I knew about them, except that they were weird looking; I'd driven by on the highway a few times (they're on highway 64 just west of the beautiful Rio Grande Gorge Bridge) but never stopped and paid the $7 admission for the self-guided tour.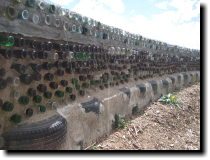 Seeing them up close was fun. The walls are made of old tires packed with dirt, then covered with adobe. The result is quite strong, though like all adobe structures it requires regular maintenance if you don't want it to melt away. For non load bearing walls, they pack adobe around old recycled bottles or cans.
The houses have a passive solar design, with big windows along one side that make a greenhouse for growing food and freshening the air, as well as collecting warmth in cold weather. Solar panels provide power -- supposedly along with windmills, but I didn't see any windmills in operation, and the ones they showed in photos looked too tiny to offer much help. To help make the most of the solar power, the house is wired for DC, and all the lighting, water pumps and so forth run off low voltage DC. There's even a special DC refrigerator. They do include an AC inverter for appliances like televisions and computer equipment that can't run directly off DC.
Water is supposedly self sustaining too, though I don't see how that could work in drought years. As long as there's enough rainfall, water runs off the roof into a cistern and is used for drinking, bathing etc., after which it's run through filters and then pumped into the greenhouse. Waste water from the greenhouse is used for flushing toilets, after which it finally goes to the septic tank.
All very cool. We're in a house now that makes us very happy (and has excellent passive solar, though we do plan to add solar panels and a greywater system some day) but if I was building a house, I'd be all over this.
We also discovered an excellent way to get there without getting stuck in traffic-clogged Taos (it's a lovely town, but you really don't want to go near there on a holiday, or a weekend ... or any other time when people might be visiting). There's a road from Pilar that crosses the Rio Grande then ascends up to the mesa high above the river, continuing up to highway 64 right near the earthships. We'd been a little way up that road once, on a petroglyph-viewing hike, but never all the way through. The map said it was dirt from the Rio all the way up to 64, and we were in the Corolla, since the Rav4's battery started misbehaving a few days ago and we haven't replaced it yet.
So we were hesitant. But the nice folks at the Rio Grande Gorge visitor center at Pilar assured us that the dirt section ended at the top of the mesa and any car could make it ("it gets bumpy -- a New Mexico massage! You'll get to the top very relaxed"). They were right: the Corolla made it with no difficulty and it was a much faster route than going through Taos.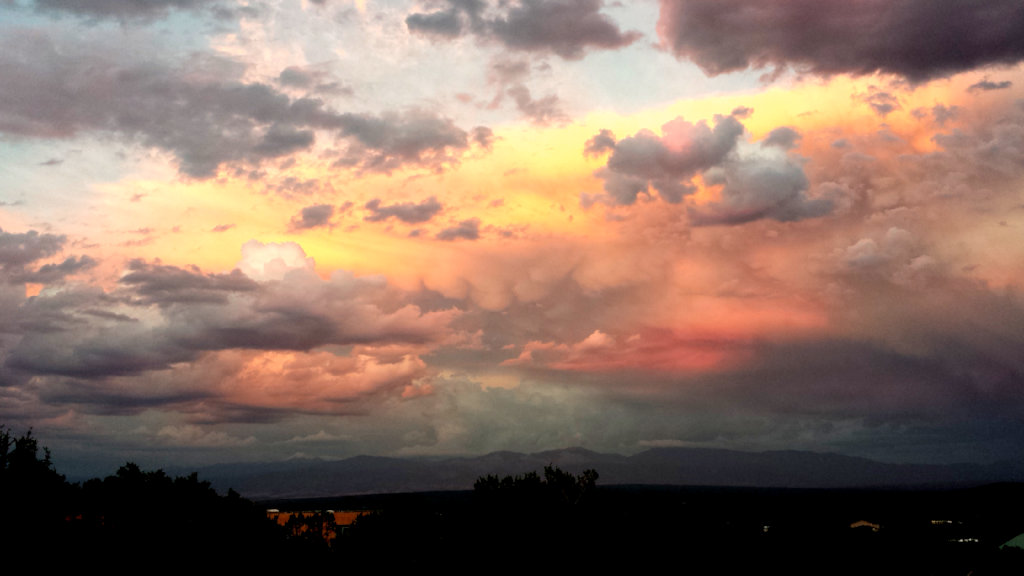 We got home just in time for the rouladen I'd left cooking in the crockpot, and then finished dinner just in time for a great sunset sky.
A few more photos: Earthships (and a great sunset).

[
21:05 Sep 05, 2016 More misc | permalink to this entry |
]