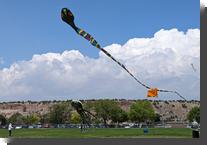 The weather is great for this year's Kite Festival, going on right now at Overlook Park. It's a little hazy, but there's a good wind, plenty to keep the kids' small kits aloft, though the big, fancy kites were struggling a little.
Continuing through Sunday night; if you're in the area, go take a look!
A few photos: White Rock Kite Festival 2023.
[
15:43 May 20, 2023 More misc | permalink to this entry |
]