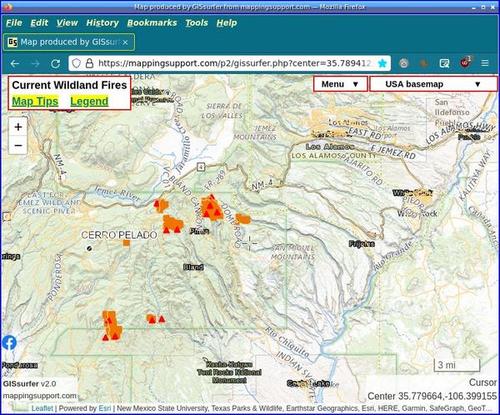 I've been using the Wildland Fires map from MappingSupport.com to keep an eye on the Cerro Pelado fire and the larger (though more distant from me) Hermit's Peak/Calf Canyon fires raging in the Pecos.
It's an excellent map, but it's a little sporadic in whether it shows the fire perimeter. In any case, as a data junkie, I wanted to know how to get the data and make my own display, maybe for a quick viewer that I can pop up when I sign on in the morning.
Also, Los Alamos County, on its Cerro Pelado Information page, has a map showing the "Go" lines (if the fire crosses these lines, we have to evacuate) for Los Alamos and White Rock and I'd like to be able to view those lines on the same map with the fire perimeter and hot spots.

[
10:46 May 13, 2022 More mapping | permalink to this entry |
]