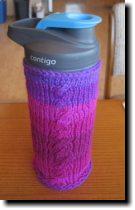 Seems like during the lockdown, everyone's taking up new crafts -- sewing, bread baking, or whatever. I was a little ahead of the game. Last winter I learned to knit. I'd crocheted a little when I was a teenager, but I'd always seen knitting as much more complicated.
It started because I couldn't find a decent headband. I'm not a big fan of hats, because migraines, but sometimes my ears get cold on hikes. I was dissatisfied with the headbands I found in outdoor apparel stores: they tend to be too narrow to cover my ears, too tight, overpriced, and don't come in many colors either. I bought one but wasn't happy with it. I decided I could probably learn to knit my own headband before I found one I liked.
Los Alamos has a great knitting community, as it turns out. (I suspect most communities do). Doris, a friend from Toastmasters, is an avid lifelong knitter (I knew that from her Toastmasters talks, of course), and she steered me to some good beginner books and gave me hints on which size starter needles to buy, including a set of circular needles since everything I was interested in making lent itself to knitting "in the round". But Doris also gave me a list of four different times the local knitters met in person, including one very convenient weekly meeting at the White Rock Library just a few miles from home.


[
17:02 May 21, 2020 More misc | permalink to this entry |
]